Service Agreements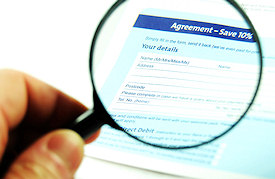 In many instances your pest problem will be a one off and we will solve it for you. Sometimes though you may have an ongoing problem and decide that your needs are best served by having regular visits to monitor and treat your premises accordingly.
Blackwood Pest Control can offer extremely competitively priced ongoing control and prevention services for many pests. This we do for both commercial and domestic clients.
If you decide that a service contract would best suit your needs this is how it works. We will carry out an initial survey free of charge and discuss your requirements with you. After setting up your contract we will visit you every six weeks at a time convenient to you to monitor and carry out treatments as required. We will also visit you in between times at your request and for those pests covered within your service agreement these visits will be free of charge.
We will provide a folder for you to keep. This will contain written advice and recommendations from us and details of ongoing treatments that we are undertaking. A regularly updated report will be completed on every visit. This can be shown to your Environmental Health Inspector to help demonstrate due diligence and show that you are acting in the best interests of your staff and customers.
To arrange a free no obligation site survey call Blackwood Pest Control, we are here to help.